Siberian Kittens Available
WE HAVE Kittens Available To Reserve SOON !
Born Sept 25 2021
Remember when inquiring to let us know about you ,so we can most accurately assess personaties and match families
Available NOW as follows : Several Retired senior (10+)females available. Spayed , ready for their forever homes. Must stay local to arizona. all inquiries welcome
Please visit our Facebook Group for the most current kitten information and more pictures!

Kittens Born September 25, 2021

1 Solid Black & White male Kitten Available to resereve - named Jimmy ! From Health Tested parents

1 Brown Mac Tabby & White boy named Cubby From Health Tested Parents

1 Blue Tabby & White girl named Annette reserved for in house at this time. !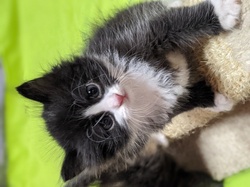 Beautiful Sweet Babies !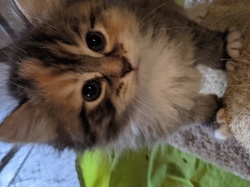 Email us for pictures and more information !
Please reserve early -. You will be able to make your picks based on order of reservation at around 7 weeks of age and after their first vaccines.
Pet Kittens are $2200 for females or males, regardless color. A $750 Holding Fee is required to reserve a kitty, and this is applied to the total. The balance is due either at pickup if in person or prior if courier is being used. Please use the button below. Kittens for breeding/show on a very limited basis - inquiries welcome but all rights reserved.

Note: Kittens are not reserved until the holding fee and contract is received.
We are 1 of only a handful of VOLUNTARY participating breeders in the Health Project!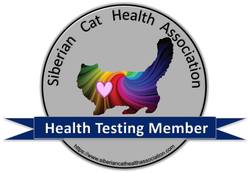 Inquiry's welcome. I do take reservations. It takes $750 to hold a kitten and is applied to the balance($1450 due at pickup). Kittens are released to their new homes after 14 weeks of age but not sooner. They will have received age appropriate vaccines , and will be altered(spayed /neutered - no exceptions) prior to placement.
A Kitten pack comes with each new baby including
a food starter of their current diet

a starter of NuVet vitamin mix/powder we use

toys

information to help new home integration

health record

CFA OR TICA Blue Slip registration


pedigree

Show homes are given preference in placement generally speaking.
We offer a rebate incentive for our show alters/premiers. You can earn up to a $150 rebate if you show your alter/premier to the highest title in TICA or CFA. (upon copy of title certificate)

If you are getting your 2nd or 3rd Siberian (or more) kitten, we do offer a discount of $150 off the cost. This does not apply to our retired adults.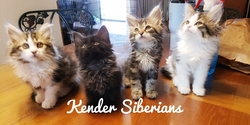 A non-refundable holding fee is required to hold a kitty for you. Please email us for details - we do not ship, period. We welcome couriers and families flying out to meet us.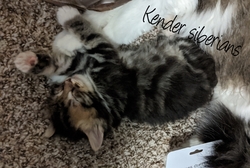 This may sound harsh but I am NOT a petting zoo. I have a family and a job. Do not ask to "come over & test for allergies". If I honored every request I would never leave the house. Allergies can not be "tested" for on a kitten as they have no hormonal development, and each and every adult is different. No animal, be it Siberian, poodle, whatever is completely hypo-allergenic. I will try to accomodate reasonable request where possible.
Updated March 2021